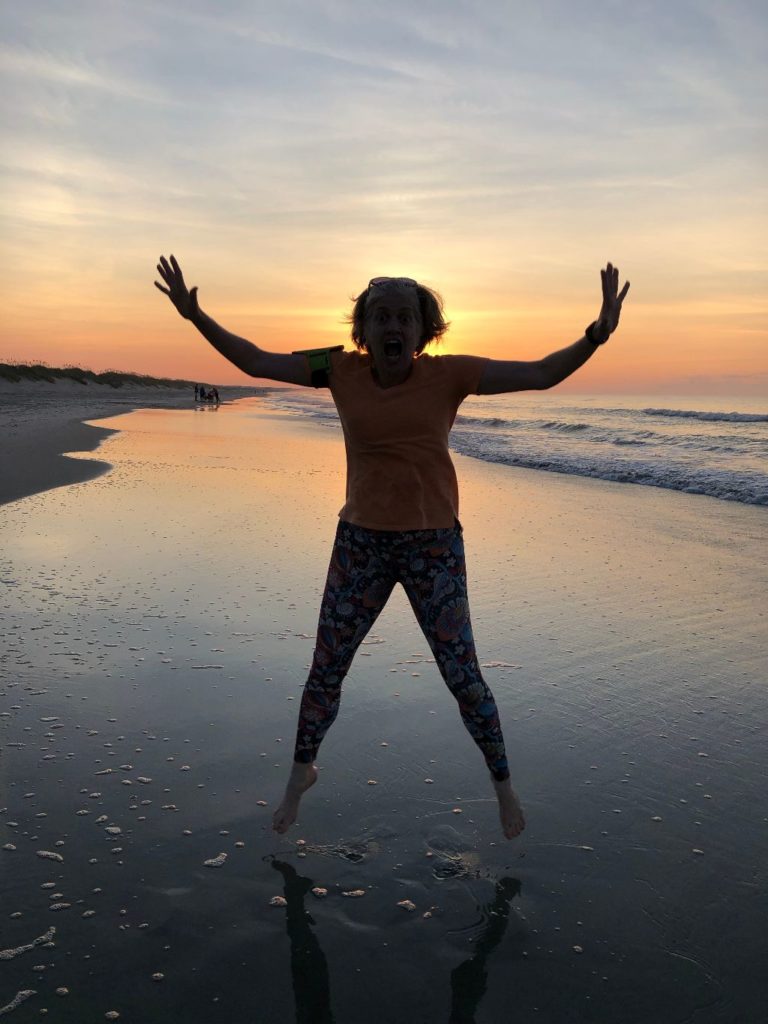 I believe it all comes down to sharing a compelling story that teaches, inspires, and ultimately connects people to something bigger than themselves.
Professionally, I spent 25+ years helping leaders and organizations build bold ideas and communicate better to drive change through my time with:
Personally, I'll always be a red-headed preacher's kid grounded in a legacy of strong, faith-fill, community-centered Southern women.

Impact
It's been a joy to use my talents, education, and passion to help leaders define and implement bold goals. My resume reveals more about my television, non-profit, and public sector career highlights such as:
Fostered new culture at federal agencies through the design and facilitation of online leadership strategy sessions and employee focus groups that resulted in a DEIA strategic plan, first ever culture vision statement and associated guiding principles, and culture roadmap.
Increased rural Veterans' access to care by 240% and program budget by $50 million through the design and implementation of a five-year strategic planning process, facilitated strategy sessions, and the design and management of a new, award-winning communications division. 
Facilitated the employment of 60,000 military spouse hires – meeting the White House goal two years ahead of schedule through new engagement approach, team training, and award-winning outreach materials. 
Changed perception of wounded combat Veterans with award-winning adaptive sports public service announcement that reached 14.3 million television viewers, beating the industry average by 400%. Plus, created "Hire a Veteran" campaign distributed by the U.S. Chamber of Commerce and incorporated into USAA's managers' training program, and generated a 600% increase in views to the organization's employment resource webpage.  
Expanded brand awareness of a medical specialty through annual scientific meeting media coverage that reached 100 million people, plus created a 170-page media sourcebook, a seven-part national ad campaign, and trained media spokespeople for stories on NBC Nightly News, Today Show, 20/20, Wall Street Journal, and The Washington Post.

Education
Mary Baldwin College, Bachelors of Arts in Communications, sum laude, with distinction
Certified Workplace Mindfulness Facilitator, 2022
Certified Master Executive Coach, Certified Life Coach Institute, 2021
Certified Executive Coach, Certified Life Coach Institute, 2020
Prosci© Change Management Certification, 2019
University of Virginia, Darden School of Business – Innovation and Design Thinking Specialization, 2018
Scrum Alliance, Scrum Product Owner Certification, 2017
LaMarsh Change Manager Certification, 2016
Certified Association Executive, 2014

Community Service
Living Vicky, Board of Directors Chairperson (2022 – Present)
Mary Baldwin University, Alumni Board of Directors (2017 – 2020)
National Association of State Directors of Veterans Affairs, Strategic Planner (2019)
American Corporate Partners, Service Member Mentor (2019)
Hiring Our Heroes, Corporate Fellow Mentor (2019)
Living Vicky, Mentor (2018-Current)
Westminster Presbyterian Church, Elder/Personnel Committee (2017 – Present)
Silent Siren, Advisory Board (2012 – 2015)
Child and Family Network Centers, Board of Directors (2012 – 2015)
Junior League of Northern Virginia, President 2007-2008 (1994 – Present)
Mary Baldwin College, Community Advisory Board, Executive Committee (2001 – 2007)
What leaders say about me
"You are an amazing, talented, and beautiful human being! Thank you for facilitating so many great conversations and for being a steadfast supporter for me and many others who work alongside you. It's funny to think about the 'shadow you cast' in your "20 sq ft." — when I think about you, a shadow is not what comes to mind. Your light is so bright and colorful and full of warmth, and you make Grant Thornton a better place to work. Thought you should know!"

– Senior Manager
"I just wanted to thank you for always leading by example and just being a great role model. Your authenticity at work is truly appreciated and welcome (and sometimes just a breath of fresh air these days). I appreciate the time you take in teaching the next generation of consultants, and how intentional you are in providing opportunities for us (me) to grow professionally with the support we (I) need."

– Senior Associate
"I want to thank you and the team for helping to guide me down the right path and supporting us all in meeting the many challenges we faced as a new office. Over the course of the last 2 years the team helped us hit a number a big milestones including at 3 off-sites and our IT Strategic Plan. You helped us turn valuable discussions and input into meaningful work products to move the organization forward. I also appreciated all our discussions, big and small—I really have learned a lot from you and the team."

– Federal Planning Analyst (GS-14)
"Six years is a long time but it came quick as if it was yesterday due to your enthusiasm, energy, can do attitude and the willingness to give of yourself and your team to put out fires. Today we are one of the best known offices in VHA not because of our "money" but because of what we are capable of doing and how we do it. Thank you for everything you did to project our image and helping change the lives of the Veterans in general."

– Federal Contracting Officer (GS-15)
"You are a great support system to your teams and the embodiment of a servant leader."

– Manager
"You are doing GREAT facilitating, and I am very glad that you are back with us to see CSO to the finish line!"

– Federal Chief Strategy Officer (SES)
"Just sending a quick note to say GREAT JOB, and thanks so much for today's excellent session. You did a superb job, and I'm grateful for all the time and care you took in preparing and facilitating!"

– Federal Strategic Planner (GS-14)